Where does the time go? I had planned on working on today's post over the weekend so I would have something really cool on Monday morning. Didn't happen. Now I am sitting here at the end of the day, and I still don't think I'll have anything done. Lots of stuff going on in the Dark Stuff world...So Bush went ahead and did a recess appointment for John Bolton to be the Ambassador to the United Nations. Figures that the administration that gives the finger to 50% of the American population (the 50% that didn't vote for Bush) on a daily basis is now going to give the finger to the United Nations. Bush has placed as our representative to the world a man who could not even get the recommendation of the Senate Foreign Relations Committee -- when a majority of its members are of his own party! This is a man that

lied

to the committee during his confirmation hearings about whether or not he has been interviewed or has testified in any court proceedings in the last five years. This is a man who,on numerous occasions, has tried to fire intelligence analysts that disagreed with him (though those analysts were probably right since all of the Bush administration's pre-war intelligence assumptions have all been proven wrong). Uugghhhh!! How fucking ridiculous! All of you Republicans that defend this action, and the rest of the "questionable" behavior of the Bushevics have pushed hypocrisy to as-yet-unseen levels.
Imagine if Bill Clinton took the country to war and then the entire basis for that war was proven false. Clinton would have been impeached immediately. Imagine if during that war a close friend of the administration was placed in charge of the occupation-government, and somehow $9 billion dollars went missing! Do you think it would just be ignored by Congress or dismissed as an "accounting problem?" There would be hearings, there would be testimony, there would be subpoenas, and there would be charges filed! Imagine if Clinton decided to appoint a man to be, say, Treasury Secretary, and that man has made numerous statements to the effect that capitalism is ridiculous or a bad idea. He would be drummed out of his Senate confirmation hearing as being someone so inappropriate for the job as to make a mockery of the position. If such a man were then given a recess appointment, the right would go ballistic! Bolton, who has said numerous times that the UN should be dissolved and is unnecessary, is now the US Ambassador to the UN!! These are just three examples of this hypocrisy. There are hundreds more. I am now so mad that I am pounding the keyboard. I need to get off this topic.

YOU SAY IT'S YOUR BIRTHDAY?
Let's do a quick re-cap of the birthdays for the last few days. The only

August 1

birthday of note is for nationally syndicated talk-show host

Tom Leykis

. Yes, Leykis is a total Howard Stern ripoff, but he's got a little bit of his own thing going, too. I think he's funny as hell. He turns 49 today.
Over the weekend there were a number of interesting birthdays. First up for

July 31

is retired, early 90s porn star

Tamara Lee

. Tamara turned 36.
Actor

Wesley Snipes

shared Tamara's birthday. The 'Blade' star turned 43. Though I am not a huge Wesley Snipes fan, he was great in

'Murder at 1600'

and he got to make out with Anabella Sciorra in '

Jungle Fever.'

Lucky fucker.
Former

R.E.M.

drummer

Bill Berry

turned 47 on Sunday as well. Going back to

July 30

, send your belated birthday wishes to these folks:
Comedian and former MTV host

Tom Green

turned 34. Wasn't he married to Drew Barrymore for like two weeks?
Former

'Friends'

star

Lisa Kudrow

hit the big 4-2 over the weekend. Have you seen her new show, '

The Comeback'

on HBO?
The last birthday from the 30th is that of blues legend

Buddy Guy

. Buddy turned 69, and is still out on the road all year long. That should be an inspiration to all the young musicians out there (especially the ones that whine about having to tour).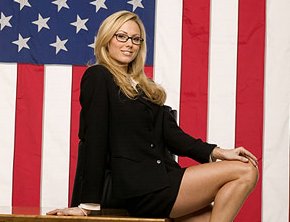 The Wide World of Politics
THE REST OF THE DARK STUFF

Did Jimi Hendrix claim he was gay to get out of the Army in the 60s? A new biography on the classic rocker says he did back in 1962...Apparently women are no longer buying thong underwear like they used to. Thong sales are down 20% and many former thong "advocates" are coming out against it. I am against this trend. If women stop wearing thongs, the terrorists win. It's about saving Western culture...Interpol will be re-releasing its second album, Antics, with a bonus disc of b-sides and remixes. The album is a must have for any music fan, but the thing just came out last year! How many more times will I have to buy this fucking album!?...Have you noticed more and more TV characters smoking pot? USA Today has a decent article on the trend. My favorite TV pot smoker? Nate Fisher on 'Six Feet Under.'...Speaking of 'Six Feet Under,' how about that ending last night? I will be writing more about it in the next few days. I was shocked!

SONG OF THE DAY:
"Blood on Our Hands" by Death From Above 1979
I have been loving this band since I got the CD late last year for my radio show. DFA 1979 is only a two-piece band, but they make more noise than an entire orchestra. You will be shocked when you hear what just bass and drums can do. The entire album is great, you can pick it up here.
Today on 'The Factor' we have Nebraska's own cyber babe

Melissa Midwest

. She's come a long way since her old days as "Melissa Lincoln." She's become a bit of a phenomenon lately. Check out the rest of this photo set here.