I had an interesting time at the Scout Niblett show last night. I briefly met Ms. Niblett before the show when the promoters were trying to find someone to drive her to get some food. She was drunk, and needed something to help sober up. I'm sure it didn't take much to intoxicate the 5'2"woman, she couldn't possibly weigh more than 105 lbs. Nevertheless, she needed something. Scout got a lift over to the Hy-Vee grocery store where she bought tortillas and bananas. She proceeded to wrap the bananas in the tortillas to make

bananaritos

! That's what we dubbed them anyway.

Opener

Kyle Harvey

played a decent set. He is an acoustic perfomer, and he did about 40 mins of competent material that lyrically seemed to deal a lot with an ex-girlfriend. It wasn't earth-shattering, but it was good. Scout walked on stage minutes after Harvey finished and played a pretty blistering set. She began her set playing unaccompanied electric guitar -- very distorted. After a couple of songs, a drummer walked up and played with her. I learned later that the drummer had played in a number of bands including Mule and

Burning Brides

. Scout closed out her brief show (about 40 mins) by doing a couple of songs from behind the drums. I only recognized one song, "Good To Me" which is the song from her new album that I play on the show. The comparisons to

PJ Harvey

that Scout has received are a little inaccurate. Some of the songs resembled

Rid of Me

-era PJ, but I think Scout Niblett has enough of an original sound that if you're not a PJ Harvey fan it won't necessarily mean you won't like Scout Niblett.

AP: Rice Asked If Bolton Testified in Leak Case. There are appears to be some more conflicting information coming from the Bush Administration regarding the CIA leak scandal. In a written questionnaire filled out prior to his confirmation hearings, John Bolton was asked if he had been interviewed with regards to any investigations in the last five years. Bolton said no. This contradicts numerous media reports that have said that Bolton did testify in front of the grand jury. Sen. Joe Biden (D-DE) has sent Secretary of State Condoleeza Rice a letter asking for her to clarify this situation and determine if Bolton lied during his hearings.

WP: Woman Convicted of Groping Screener. A Green Bay, Wisconsin woman was convicted of assaulting an airport security screener by grabbing her on the breast. The woman said she was upset about getting patted down by the screener, and gave her a little groping back. She faces up to one year in a federal prison and a fine of up to $100K for this incident. I guess she should have just lied back and enjoyed it.

SHOWS!SHOWS!SHOWS!
TONIGHT:

Weird War at Sokol Underground


Weird War

is something of an indie rock supergroup. It features former members of

Nation of Ulysses

,

The Make Up

,

Pussy Galore

and

Royal Trux

. I have heard from a few folks that I trust that the band's newest record (on Drag City) is supposed to be great. But, I saw

The Make Up

10 years ago or so and was not overly impressed. They were recommended even stronger at the time. I'm about 50/50 for tonight. The band has two videos posted online if you want to see them for yourself.Opening the show is

Bombardment Society

and

Brimstone Howl

(who used to be called Zyklon Bees).



TOMORROW:

Maria Taylor / Statistics at Sokol Underground (click to buy tickets)


Maria Taylor

is one half of the band Azure Ray, and is touring in support of her debut solo album,

11:11

.

Statistics

is essentially Denver Dalley who used to play in Desaparecidos along with Bright Eyes' Conor Oberst. Scroll down for today's song of the day from Maria Taylor.


The Rest of the Dark Stuff
1980s goth-rock pioneers

Bauhaus

will be working on its first new album of new material since 1983s

Burning From the Inside

. The band has joined the ranks of classic 80s bands that are reforming to find a larger audience than when they were originally together (a la Pixies, Dinosaur Jr.). Wait, didn't Bauhaus already "get back together" once before? Yes they did. Back in 1998...A new British report suggests that online music downloading actually results in increased music sales overall. The survey says that those that illegally share music through P2P sites, actually spend four times more money on legal downloads than does the average music buyer. It argues that the music industry should focus less on prosecuting illegal downloaders and more on enticing those people to start using legal download sites. Sounds pretty sensible...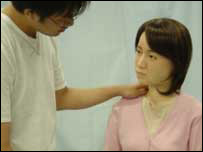 Japanese scientists have developed the first "female" android. Her name is Repilee Q1, and as of now, can only sit and make facial expressions. Knowing all the obvious potential of a robotic woman, I'm sure it will be no time at all before the

"love you long time"

robot will be created for mass production...Indie rock makes it to Russia. Interesting article detailing the travels through Russia of two Omaha musicians (one of them is Tim Kasher of Cursive and The Good Life). Apparently, the Russians are very knowledgeable about the music, and are much more enthusiastic than the average American indie crowd....
SONG OF THE DAY:
"Song Beneath the Song" by Maria Taylor
If you are familiar with Taylor's band Azure Ray, then you have a decent idea what her new album sounds like. There are elements of folk and dance, along with an ethereal quality that makes the music seem otherworldly at times. This song features Bright Eyes' Conor Oberst on background vocals. Listen closely, you'll hear him. If you like this song, you can pick up the new CD here.
Today on 'The Factor' we have E!'s

Brooke Burke

. Brooke is also the co-host of that stupid reality show about finding the new lead singer of INXS:

Rock Star INXS

. Most importantly, though, she is a first-rate hottie. I will never watch that INXS show, but everytime I see her on E! I don't change the channel. To see the rest of this gallery, click here.