According to TV Newser, the Norah O'Donnell picture that circulated amongst all the news junkies is a fake. The website claims it is some sort of photoshop creation that removed the letters USE after calling her a WHITE HO. I never thought she was a ho....What isn't fake is the picture of Dark Angel star Jessica Alba in a see through top shot at the MTV Movie Award the other day. Those things are very real!
Last night's Neko Case show was quite excellent, and the large crowd was a pleasant surprise. Neko herself was behind the counter selling merchandise and I was able to chat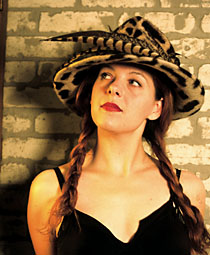 with her briefly before the show. She looked great in person, and she had no make-up on whatsoever. She was all natural baby! At her insistence, the club was non-smoking for the night. Since I don't smoke, I had no problem whatsoever with this development. Her set was excellent, and Neko's voice was in stellar form (probably helps without all the smoke). I was very impressed with the show overall, and ended up buying the two Neko Case CDs that I didn't already have.

While Neko was amazing in concert and she looked great, my attention kept being diverted towards my "local dream girl." I mentioned seeing her at the Bright Eyes/Faint show last month, but haven't seen her since then. Two major developments on this girl's front (at least as it pertains to me):

1)

I found out her name is Liz and

2)

she is no longer with her boyfriend. The guy was at the show, but it didn't take a genius to pick up on the very obvious signs that they are not together anymore. They barely stood closer than 50 feet from one another during the show. I would say "yeah for me" but this girl doesn't even have me on the radar screen. It turns out she does know my brother (that's how I found out her name), but that does not seem to be enough to get her to give me the time of day. Still...I'm not giving up!

Before I hit the show I caught the season premiere of Six Feet Under.
For the last four seasons, this show has been one of my favorites. The last season ended in a really shocking way, and during the show's hiatus it was reported that this will be the final season. I was quite impressed by the season opener. All the usual elements were there: Nate smoking pot, David and Keith being totally gay, and Claire being, well, Claire. Since you may not have seen it yet, I won't say too much. Nate and Brenda did get married (a huge mistake for Nate) and naturally it was a bit of a disaster. Mrs. Fisher's husband George apparently got committed over the hiatus, but was able to be released the day before the wedding! I wouldn't give Nate and Brenda's marriage very good odds, but theirs are certainly better than what I'd give Ma Fisher and George. Rico seems to be enjoying the single life, finally, and his exploits should be pretty entertaining this season. I'll be sad to see the show end, but it's better to end while people are asking why you're quitting than to end while people asking why you're not.

I'm taking the next few days off from seeing shows. There's not anyone good playing until Friday when three of the top local bands are playing together at Mike's Place in Council Bluffs, IA: Little Brazil, Ladyfinger, and The Philharmonic.