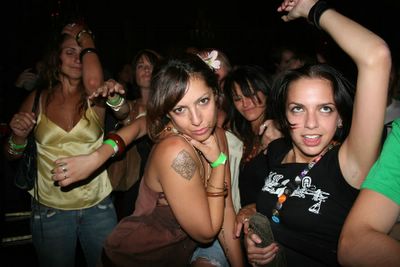 Autolux to open shows on the Nine Inch Nails / Queens of the Stone Age tour later this summer. This excellent band (featuring former

Failure

guitarist Greg Edwards) will join the tour September 16 in San Diego. If you don't already have it, buy Autolux's debut album

Future Perfect

. It beats the shit out of NiN and Queens' new albums. That's for sure.

Ralph Nader on the 2004 election: "I felt like a nigger." Huh? First off, Ralph, I wouldn't go around using words like that in your speeches. Second, if you were trying to say you were marginalized by "power brokers" in the Democratic Party, you are full of shit. You were marginalized by your delusions of grandeur, your nonsensical statements like "there is no difference between the Democrat and Republican parties," and your silly insistence that you be allowed into the Democratic National Convention as a journalist. Ralph, you did some great work in the 70s. It's time for you to retire and spend your old age riding your bicycle back and forth from your apartment to the grocery store or bingo hall.

Dog rapist now dog murderer. The dog violated by a North Carolina teenager has died. The charges are now upgraded to the highest possible animal cruelty charges.