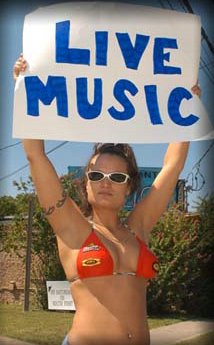 I had kind of a slow weekend on purpose. I only went out one night, but I saw enough rock for an entire weekend. The show at Mike's Place was much better than expected. Saw opener

The Philharmonic

for the third time in about a month. This was, by far, the best I've seen them. They are getting better daily. I can't wait to see how much ass they are kicking by the end of the summer. Do I hear record contract?

Next up was

Little Brazil

. This is another band I have seen a lot of lately. They have been attracting a decent amount of national attention, and just finished some support dates with Tegan & Sara. I have mixed feelings about the band. I like them, but their music often times sounds so much like Superchunk that it's hard to take them seriously. I think they are talented enough to work through this faze and develop more of their own sound. At Friday's show, they played a number of new songs that sounded pretty solid. They were nowhere near as loud as The Philharmonic, though.

Last up was

Ladyfinger

.I have been singing the praises of this band for a while now. They put on a pretty great set this night,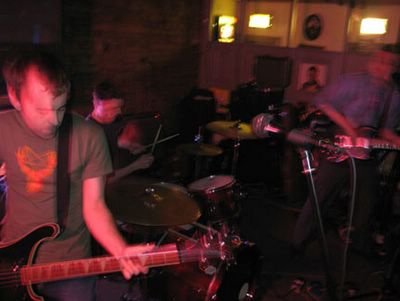 and had their new demo CD available for purchase. They gave me one for free (I'm so cool). The disc is decent, but not nearly as good as the live set. They misspelled "tongues" on the back. Too bad, they were hand-screened and looked pretty cool. I had a great night overall despite the fact that my friend lost his wedding ring at the show and we had to frantically look all over for it. We did not find it. Also, my local "dream girl" Liz (mentioned earlier) seems to be back with her boyfriend. Damn. That must have been the shortest break-up on record.

Watched a lot of television since I was home so much. Caught the new episode of The 4400. I mentioned this show's return a while back but did not comment on the specifics of the show. I am waaaayy into the second season. I can honestly say that I cannot tell where it's going. Strangely, I'm finding the most compelling character to be Maia.
She is the little girl abducted at age 8 back in the 1940s. She now has the ability to see the future, and it freaks everyone out. Kids don't like her and adults are scared of her. I feel so bad for the kid. I know she will be playing a bigger role in future episodes. The rest of my Sunday shows were repeats, so there is no point mentioning them.