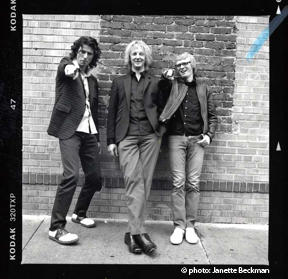 The Fags just might be the coolest band in the world. I am willing to make this claim even though I have only heard five songs by the band. The Fags' self-titled EP has been in near constant rotation since I bought it back in 2002. I mentioned last week that The Fags are coming to Omaha. I decided to try and get an interview with the band for my radio show. Since these guys are not yet rock stars, it was pretty easy to arrange. The interview went really well. I like them more now than I did before speaking to them.

I talked to John Speck for about 20 mins. I got the whole story on the origin of the band and its mission to teach young kids how to rock again. Speck talked about the influences of the band which include: The Replacements, Cheap Trick, Van Halen (Diamond Dave-era), Def Leppard (when the drummer had two arms), old KISS, AC/DC (Bon Scott era), The Romantics, Slade, Missing Persons, and anyone else that "just fuckin' rocks." Bottom line is these guys are power pop with balls. It is exactly what is missing from the current music world, and I hope they are able to convert the 18 year old of the world of this fact. Here is a song from the band's 2002 debut EP, The Fags:
"List"



If you are in Omaha, they are playing at Shea Riley's (72nd and Dodge) on June 22nd. Here are the rest of the tour dates:


6/18 The Galaxy Club Dallas, TX
6/19 Holiday Skatium Haltom City, TX
6/20 Stubb's BBQ Austin, TX
6/22 Shea Riley's Omaha, NE
6/23 Quad City Live Davenport, IA
6/24 Ascot Room Minneapolis, MN
6/25 Cactus Club Milwaukee, WI
6/26 Pearl Room Mokena, IL
6/28 Melody Inn Indianapolis, IN
6/29 Mad Hatter Covington, KY
7/01 Temple Club Lansing, MI

Just because they are so cool, here is an mp3 of

"Reserved"

which is also on the debut EP. Their full-length is set to be released in August on Sire Records. I can't wait to hear it. John promises that it rocks much harder than the EP. I will have a full report (hopefully with photos) on the show and my in-person dealings with these Fags. For those of you tht are going to get all PC about the name of the band, remember that the word has more than one meaning....